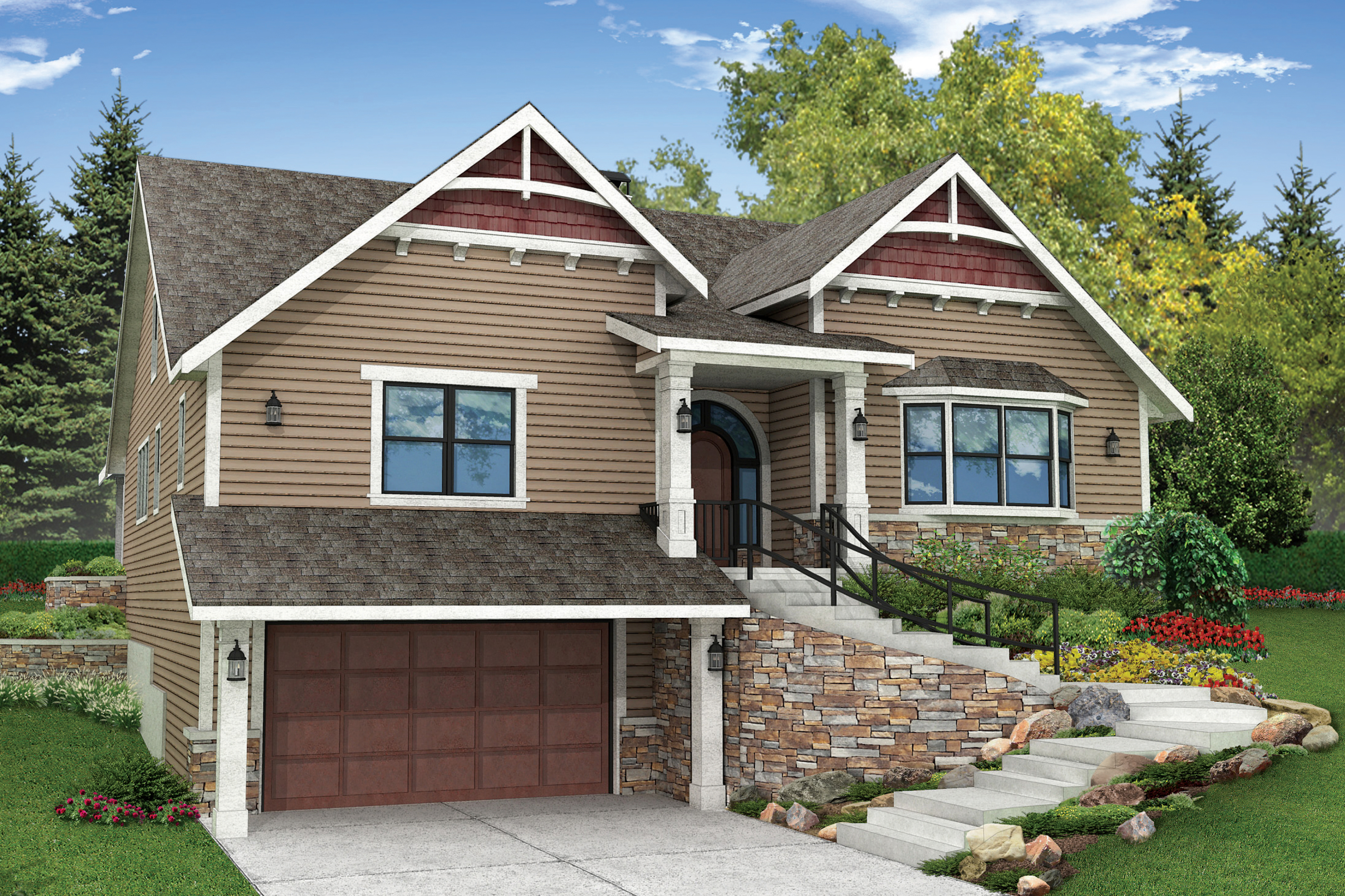 Like a gently winding stream, eyes are drawn by a curved path of steps to the Springvale's distinctly arched entry. Cut into the front side of a hill, this Craftsman-style home provides elevated views of the area around it. Coach lamps emphasize framed-out columns flanking the entry and garage. Other Craftsman attributes include stone veneer wainscot, gable end projections, and shake-textured siding that accents both gable peaks..

Inside, most of the living area is on the main floor. A small loft and unfinished attic space for storage are to the second-level, while the garage is below.
Ceilings are higher through the center of the home, running from the front towards the back. In the foyer and living-room, the ceiling height is ten feet. The playroom is two stories high, and overlooked by the second floor loft.

A wood-burning stove fills one corner of the large living room that's partially open to the kitchen. The kitchen's raised eating bar offers seating for informal dinners, snacks and homework supervision, while hiding the inevitable clutter of food preparation and clean up. The eating nook is open to the playroom, next to a deep pantry with a stainless steel table and a second refrigerator.
The luxurious owners' suite is reached via both an arched opening near the foyer, and a door off of the playroom. Features include a direct-vent gas fireplace and a spacious walk-in closet, along with a private bathroom complete with a heated spa tub. Secondary rooms are at the front.

A bathroom off the Springvale's left-front bedroom links using a large laundry and hobby room. The dumbwaiter there eliminates the need to carry heavy or bulky objects up from the garage.
[Quote section]
[Product Hero section #1]
[Product Hero section #2]
[Product Hero section #3]
[Product Hero section #4]
[Product Hero section #5]
[Carousel description widget]
[Product carousel widget]