Looking to add to your property but can't decide between that detached garage with workshop or the guest cottage? Why not combine the two? Detached garage plans with living areas are growing in popularity and it is not difficult to see why. Here are 5 of Associated Designs best-selling garage plans with extra living.
Craftsman Garage Apartment – Plan 20-119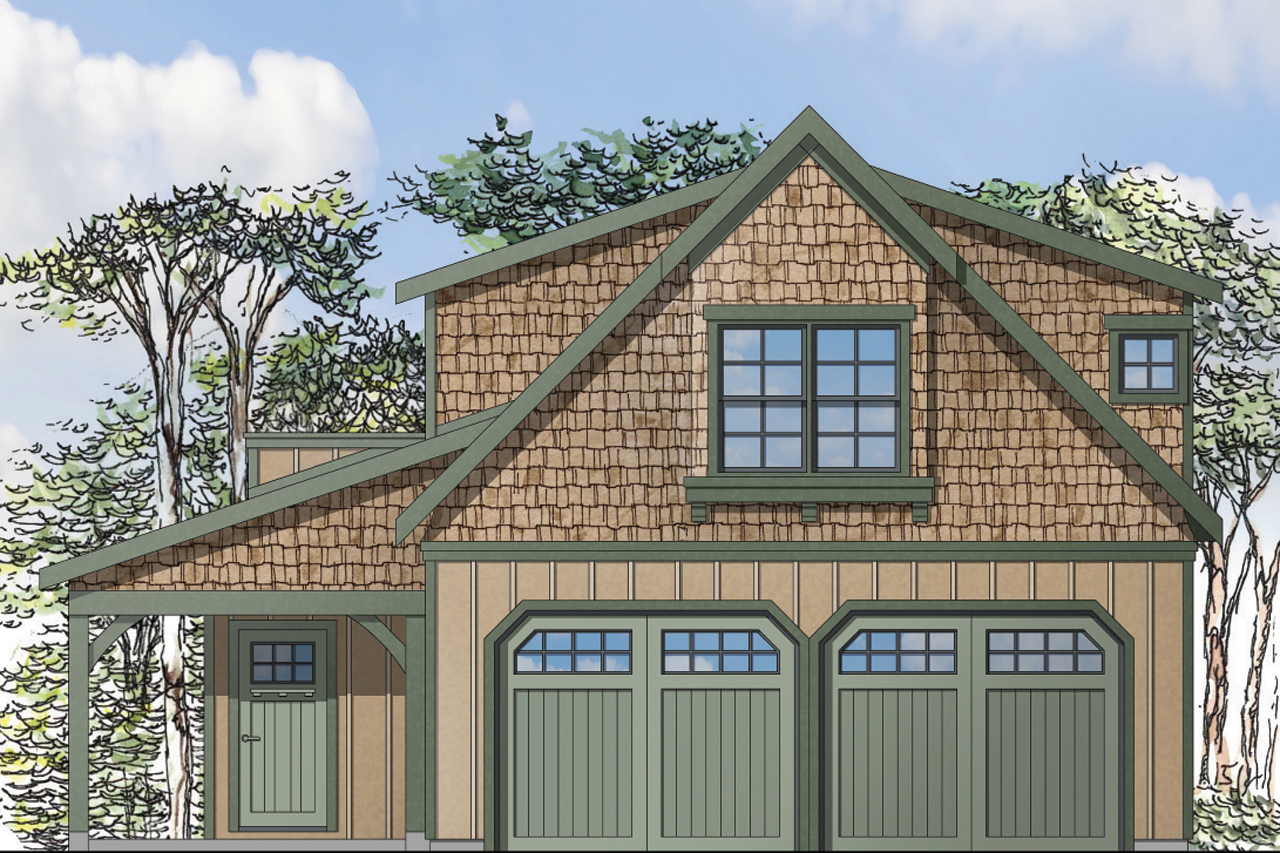 It is clear to see why this two-story garage with apartment is a popular plan. Its uncompromising floor plan offers parking for 2 cars plus extra for a hobby space – wood working, crafting, gear storage, etc. – all on the main floor. Upstairs is a charming and well-appointed living space. Your first step in the apartment is in the vaulted kitchen – fully furnished with dishwasher, sink, range/oven, and refrigerator. Across from the kitchen is a utility nook with washer and dryer plus a small folding counter. The floor plan opens to a vaulted great room complete with fireplace and access to the balcony. The office can serve as an extra bedroom if needed and the full bathroom has a generous sized walk-in shower and dual vanities. Anyone entertaining long term guests or housing family members will appreciate the well-appointed and comfortable apartment.
3-Car Garage with Second Floor Living – Plan 20-052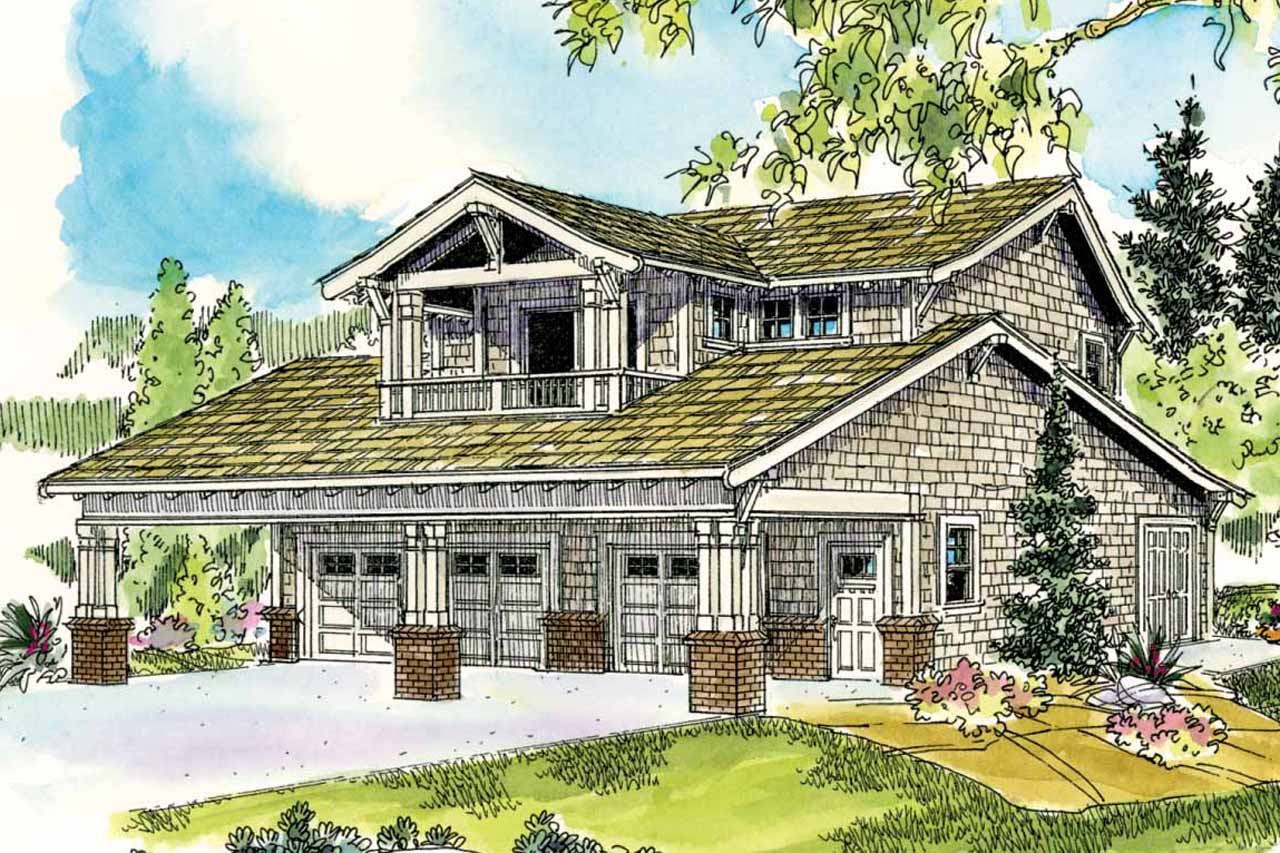 For the car enthusiast this is an ideal garage plan. The main floor can store up to three cars inside with an additional three stored under the carport if tandem parking is not an issue. Those that like to spend their afternoons working on their cars will appreciate the main floor full bathroom. Upstairs is a one bedroom apartment. The great room offers a cozy fireplace framed with built-ins. There is a separate utility room off the well-appointed kitchen complete with eating bar. The dining nook provides access to the balcony which looks over the front of the garage. French doors inside open to a bedroom complete with walk-in closet and full bathroom.
1 Story Garage Apartment with Country Style – Plan 20-018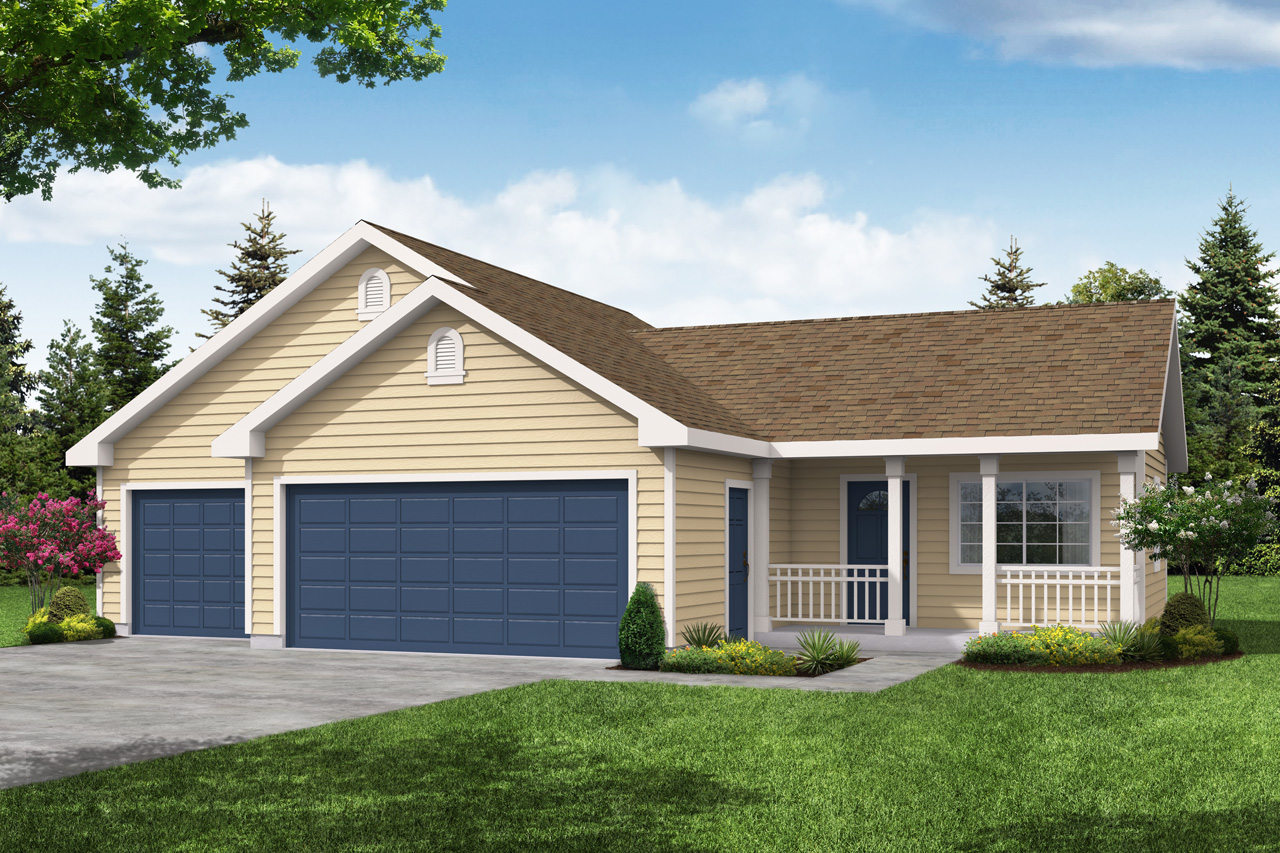 This unique garage design offers a three car garage floor plan with single level apartment plus storage. The double car bay extends back to offer a storage corner which could easily be outfitted with benches for a workshop. A charming covered front porch shelters the entrance to the living space. A great room with kitchenette makes up most of the apartment. Down the short hallway is a full bathroom and bedroom. This design offers a great guest cottage option for those who entertain aging parents on regular basis.
Hillside Garage with Living – Plan 20-008
Construction on hillside lots has skyrocketed in the last couple of years. For those with challenging sloped lots take a look at this charming Craftsman detached garage design. The basement level is the two car garage. An exterior stair case or upper level vaulted porch lead to you one of the two entrances to the studio apartment. Vaulted ceilings and an abundance of windows makes the apartment feel bright and spacious. A full kitchen with stove, sink, refrigerator, and island allow guests to feel independent of the main house.
New Farmhouse Garage with Studio Apartment – Plan 20-189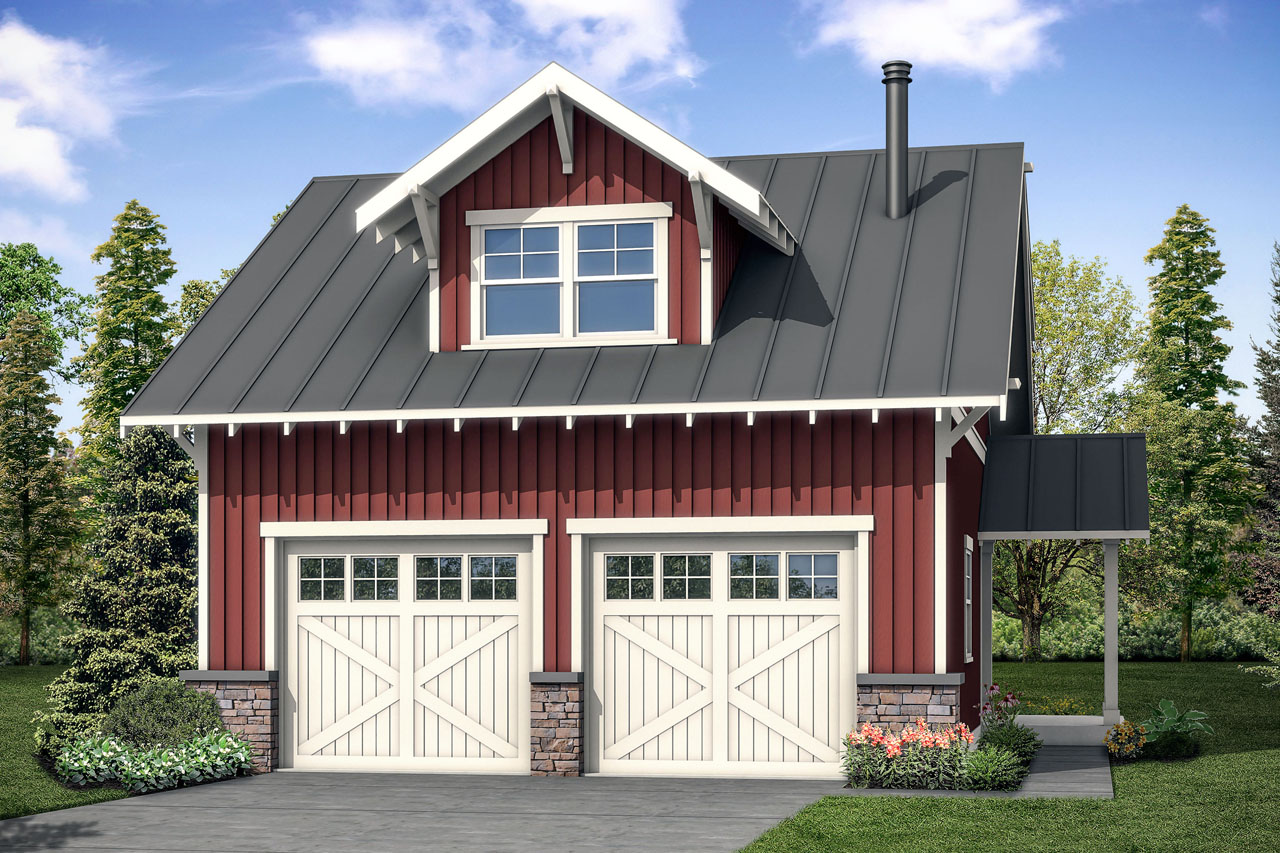 Quickly climbing the best-selling ladder is Garage 20-189. Its farmhouse exterior is eye-catching. The main floor is the two car garage with storage closet and wash tub. The stairs to the studio apartment are accessed from the outside and the covered stoop can be extended for those that would prefer to connect the detached garage with a breezeway. Upstairs the studio apartment is an open-concept floor plan. A kitchenette lines the left hand side of the room while opposite is a cozy wood stove. A full bathroom is upstairs.
Looking for a unique garage apartment plan? Any of these best-selling garage apartment designs can be modified to fit your specifications. Look for the Get a Free Quote button to start talking with Associated Designs talented team of residential home designers.
[Quote section]
[Product Hero section #1]
[Product Hero section #2]
[Product Hero section #3]
[Product Hero section #4]
[Product Hero section #5]
[Carousel description widget]
[Product carousel widget]