The past year has taught homeowners everywhere the value of a little extra space. With families spending more time than ever in their homes, bedrooms have been turned into offices or classrooms, while bonus rooms have been converted to living spaces for extended family.
Though the pandemic will eventually fade into memory, these home trends show signs of enduring for the long term. Numerous plans available through The House Plan Company reflect these changing preferences, with buyers increasingly placing an emphasis on flexibility and efficient, creative use of spaces. And those with room on their primary lots are taking advantage of the small house plan trend by adding modern guest houses to their property.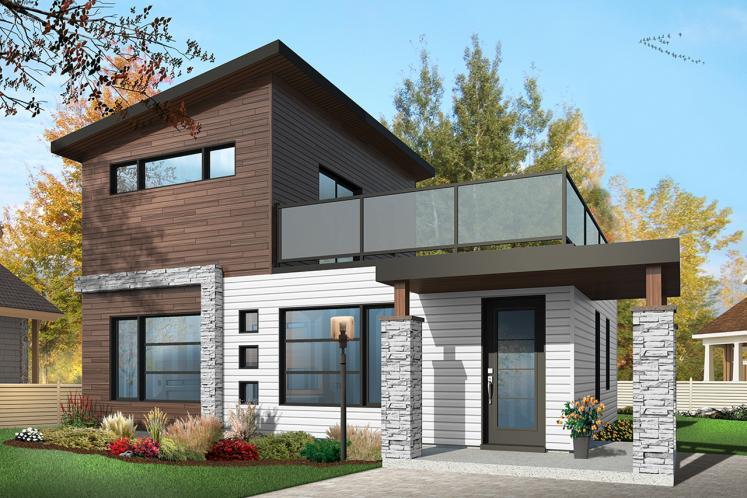 House plans like the Joshua #93093 featured on The House Plan Company fit this trend perfectly. The modern siding and stone-facade cottage combines all the amenities of a two-story home plan, but fits it all in at under 1,000 square feet. A front door beneath a covered porch steps into a foyer that reveals an open-concept floor plan with the living room, dining area and kitchen, as well as a bedroom with closet space, a full bathroom and a laundry room all on the main level. A staircase leads up to the second-floor master suite with a master bath. Sliding doors from the suite open to one of the true gems of this plan: a second-story terrace, with space to entertain family or guests outdoors.
The Cub Creek #54439 is another great guest cottage. This one-story craftsman cottage with large front-facing windows packs the warmth of a lodge plan in a small design. An open plan dining room, kitchen and living room with fireplace offer a cozy space to unwind before retiring to two bedrooms with adjoining baths. This eye-catching design also makes a great option for those looking for their primary residence to be a tiny home.
For those wanting to keep their existing home, but build a bit of flexibility into their lot, the #57764 guest cottage plan may be the perfect solution. This two-story farmhouse design places a spacious bedroom and full bath atop a sitting room with fireplace, a kitchen with a breakfast nook and walk-in pantry, plus a laundry room, opening out to a rear-facing deck. It's a stylish yet practical way to add space for an extended family visit, or a permanent residence for an aging relative.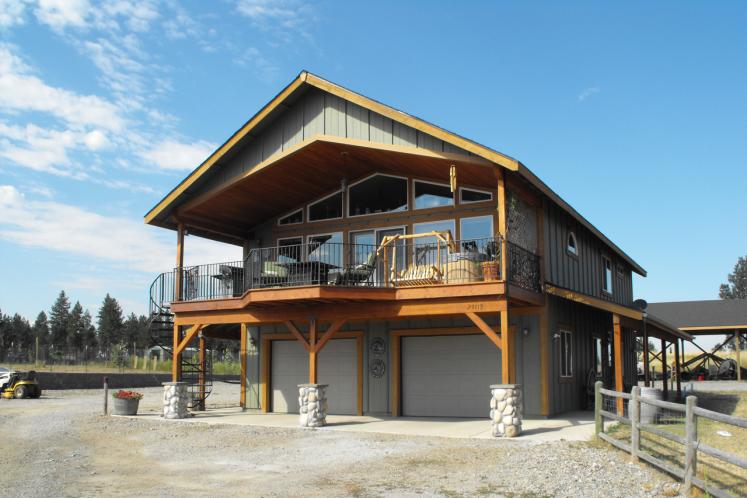 Those looking to build flexibility into a single primary residence, meanwhile, are finding opportunities in unexpected places. The trend toward maximizing design efficiency has zeroed in on the adaptability of garages into office spaces or living quarters. Plan #79444 country craftsman plan typifies this trend. An exterior staircase leads to the second-floor main living area. But ground-floor entrances step into a roomy office area adjacent to the two-car garage. This space could easily be converted into a guest room, complete with a full bath and storage. A stairway leads up to the primary living and lounging areas: a master suite and secondary bedroom with ample closet space, a spacious great room that opens to a covered deck, and an adjoining kitchen and dining room.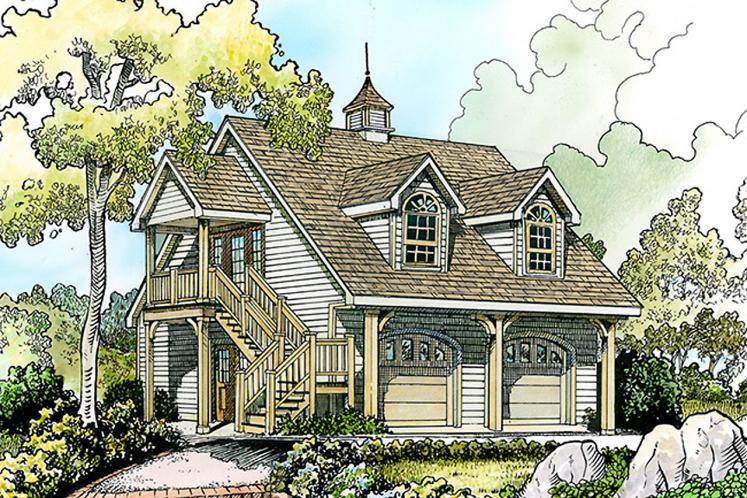 The Windcrest #83377 farmhouse plan incorporates similar design flexibility in a cottage-style build. A ground-floor garage can be accessed from a side entrance into an adaptable open space, providing builders freedom to create a ground floor living or working area customized to an owner's needs. Atop this open space sits a fully built-out living room, detached kitchen and spacious primary bedroom with full bath. This floor includes ample closet and attic space, perfect for storing accessories from the lower office or living area.
For those wanting to build the same flexibility into a smaller plan, the #84620 ranch design offers adaptable garage space in a single-level build. Stepping into a breakfast nook and sitting area, the design extends back beyond the kitchen to a primary bedroom with full bath. But a doorway beyond the laundry room opens to a wide garage, offering plenty of space to convert to a workshop, home office or even additional bedroom. Within a build under 700 square feet, this plan brings exceptional versatility to a design that can easily be built as an accessory structure on an already occupied lot.
###

Associated Designs and The House Plan Company are located in Eugene, Oregon. Founded in 1990, Associated Designs has sold more than 60,000 home plans and publishes a weekly home design column in newspapers around the country. The House Plan Company helps to connect leading Architects and Designers throughout the United States with people interested in home design by featuring a variety of house and garage plans.
[Quote section]
[Product Hero section #1]
[Product Hero section #2]
[Product Hero section #3]
[Product Hero section #4]
[Product Hero section #5]
[Carousel description widget]
[Product carousel widget]