Detached garage plans are a great way to enhance your property. If you love where you live but have found that you need more detached garages can offer you far more than just extra parking for your cars. For those that have recently acquired your dream property and are excited to build but need to start small garage plans with living or "shouse" (shop + house) plans may be your solution for the first phase of creating your dream property.
Shouse or garage apartments come in a variety of sizes and styles. Available with 1 story or 2 story floor plans here are some of our designer's favorites.
Design 20-119
This two story garage plan is brimming with Craftsman charm. If you love the farmhouse look this garage is a great choice with its blend of batt and board siding with shingle accents. The main level has the 2 car garage with hobby/shop space along the back. It is well separated from the living area which fills the second floor. The stairs to the apartment have a separate entrance from the garage under the large side covered porch. The apartment is well appointed and comfortable enough for long term living or guests. At the top of the stairs a door opens and you are in the vaulted kitchen. The full kitchen offers a range and oven, dishwasher, and refrigerator. A few steps away is a laundry nook with folding counter. The core of the apartment is filled with a vaulted great room which boasts a fireplace and a balcony. The vaulted bedroom is a suite with direct access to the full bathroom and a step-in closet. The vaulted office offers flexibility and can also be furnished as a second bedroom if desired. At 946 square feet there isn't much that is left out of this luxury garage apartment.
Design 20-018
From the outside it is difficult to tell if this country style garage is a detached garage or a small house plan making it ideal for those who would prefer to build a shouse. The three car garage offers one oversized bay and then a separate two car garage with storage along the back. While a man door connects the garage and shop space there is no direct access to the living area. Back outside a charming covered porch adorned with a rail creates a welcoming space and is ideal for some patio furniture. Inside the living area is cozy and simple. A great room with kitchenette fills most of the living area. Off the entry is a coat closet. Around the corner is a full bathroom and a single bedroom. Those looking to add a detached building that combines additional storage and guest accommodations will find those needs met in this charming detached garage design.
Design 20-350
This detached garage design has it all. Smooth stucco covers most of the exterior with a stone wainscot. An oversized side entry garage can accommodate between 2 and 4 cars if parked in tandem. Along the front another large garage door opens to the vaulted RV bay. These three bays provide 2640 square feet of car storage or work shop space, ideal for the car collector or restoration hobbyist. In additional to the almost here 2700 square feet of garage space this plan offers 1941 square feet of living space. The apartment offers a main floor great room complete with fireplace and full kitchen with eating bar. A small laundry room can be found just a few steps away along with direct access to the RV garage. At the entry to the living area, a staircase leads up to the second floor where all three bedrooms are located. Towards the front of the second floor plan is a comfortable owners' suite with fireplace and private bathroom plus walk-in closet. The third bedroom is option and could be left as a loft. This garage design is sure to be comfortable year round or as luxurious guest accommodations.
Design 20-152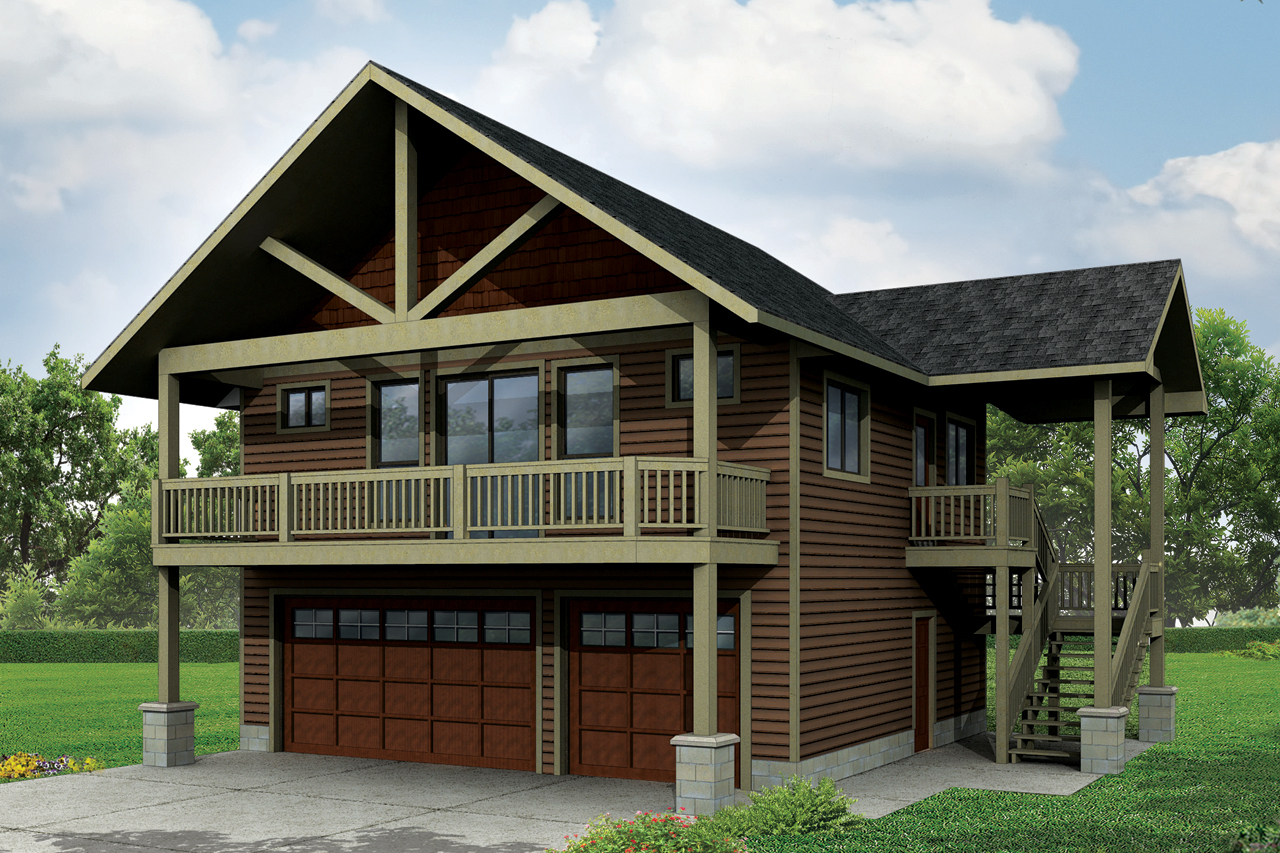 This lodge inspired garage plan is a favorite of our design team and customers alike. This best-selling garage plan allows for storage of up to 3 cars. The living area is complete separate from the garage with no direct access between the two. An exterior staircase switches back to a small covered deck and the entrance to the second floor living area. Inside the floor plan offers great room style living where the great room, dining room, and kitchen are all open to each other. The kitchen is well appointed and offers additional counter space with a center island. A wood stove is placed between the great room and dining area just to the side of the front door keeping the gathering space cozy during the cold winter months. Off the great room a sliding glass door opens to a vaulted covered balcony. Off the great room is a full bathroom and one bedroom. The 896 square foot apartment is sure to feel cozy and comfortable year round.
Associated Designs has an entire collection of garage plans to help you find the perfect detached garage, shop, or barn plan. When adding to your property taking the time to make sure the design meets all of your needs is important for being happy with the building for years to come. While Associated Designs has a large collection of garage plans, plan modification services are available to help you tailor your next garage, shop, shouse, or barn to your exact specifications.
[Quote section]
[Product Hero section #1]
[Product Hero section #2]
[Product Hero section #3]
[Product Hero section #4]
[Product Hero section #5]
[Carousel description widget]
[Product carousel widget]