As the end of the year approaches, reflection over the last year begins. What architectural styles faded or continue to dominate? What size or floor plan arrangement held homeowners' preferences? The House Plan Company has taken a pause to reflect on the top design trends of 2022.
The top trend for 2022 was Barndominium plans. This modern style draws from the past with heavy country and farmhouse influences. Iconic features previously reserved for detached barns such as silos, gambrel-style roofs, and cupolas now grace the front of homes and duplexes. One of The House Plan Company's most popular barndo-style design is the Sylvan Lake, HPC #93262. This luxury design checks most of the styles boxes with a rounded bay wrapped in metal to give it the appearance of a silo while the core of the home looks like an upscale, historic barn with a gambrel roof.
Next on 2022's top design trends are Small House Plans. In contrast with some of the other design trends for the year homes under 2000 square feet were popular with homeowners and builders alike. One of the top small house plans is the Kendrick, HPC #41825. At 1195 square feet, the Kendrick offers an open floor plan with 3 bedrooms and 2 full baths. The Craftsman-inspired exterior makes it a popular choice and easy to add to almost any subdivision.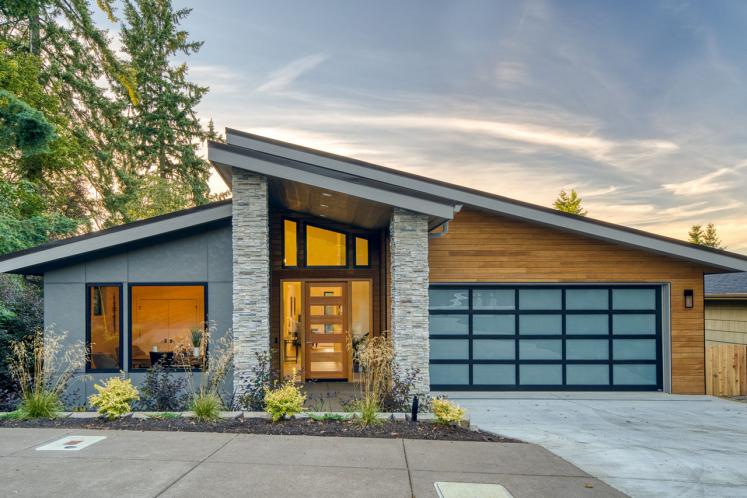 With working from home becoming a permanent option, homes with 4 bedrooms became a popular request from homeowners looking to set up home offices away from the main living areas. The added flexibility of 4 bedrooms allows not only for private home offices but can serve as guest rooms or hobby spaces. Featured on The House Plan Company is the Carbondale, HPC #47582, a hillside house plan with four bedrooms an open floor plan designed to take in lake, mountain, or urban views. The main floor is filled with the great room, master suite, plus a flex room that could serve as a home office, den, guest room, or whatever else suites.
The next two styles go hand-in-hand, view lot and homes on walk-out basements too a leading role in 2022 design trends. Possibly a result of more time spent indoors, homeowners are looking for ways to bring more of the outdoors into their daily life. Considering the view your lot has – be that lake, river, mountain, or urban – is a great way to draw the outside in. A walk-out basement is a great foundation choice for those working with hillside lots and who want to maximize any view afforded by the changing grade. A basement foundation can provide homeowners with flexibility to finish the space at a later date, allowing the home to serve over shifting life stages. HPC #40138 is a popular sloped lot design with reverse living – gathering spaces above the main floor – allowing views to be captured from the front and side of the home. The great room is richly windowed and a large deck along the side of the home allows for outdoor enjoyment of any views the lot has to offer.
With sights on the new year, The House Plan Company considers what trends 2023 may bring. What architectural style will be most popular? Can Barndominium continue its lead or will there be a revival of Prairie or Bungalow style designs? Flexibility in floor plan layout will continue to be key as the home will continue to serve a dual role of personal and workspace. Whether the preference that the flexibility is provided by an extra bedroom or if bonus rooms will see a comeback is yet to be seen.
[Quote section]
[Product Hero section #1]
[Product Hero section #2]
[Product Hero section #3]
[Product Hero section #4]
[Product Hero section #5]
[Carousel description widget]
[Product carousel widget]