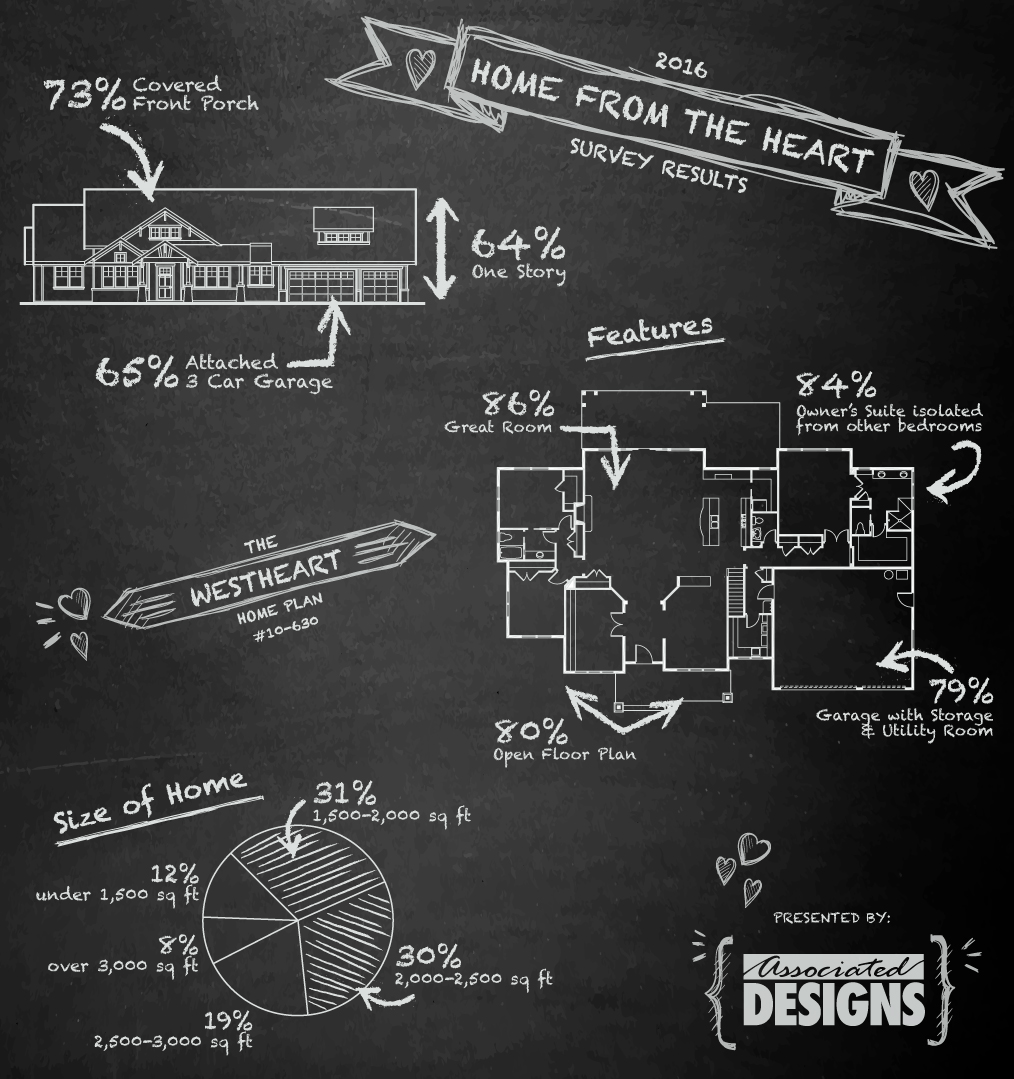 What makes up a dream home? Is it the view? The square footage? The walk-in shower or Craftsman-style kitchen? Does such a house that combines all of your dreams even exist?
Knowing the answers to these questions is what Associated Designs' Home from the Heart survey is all about. This year's survey once again asked readers, like you, to share what features and design elements you want in your dream home. The results of the survey allow Associated Designs to create a collection of home designs that feature all of those wants and desires.
The 2016 Home from the Heart survey focused on every element of the home – from the size to the style to special features to the number of rooms. Using the most voted on features, Associated Designs has created the Westheart 10-630 home plan that highlights the must-have design essentials from the survey. Featuring 3,135 square feet of living space in a single floor layout, the home includes all the popular features including a walk-in shower, covered front porch, great room, utility room located close to the garage, and plenty of windows for natural light and scenic views.
Unlike last year when the Craftsman house was the sought-after exterior home style, this year's survey revealed that both the ranch and Craftsman homes were neck and neck in terms of popularity. This coincides with the continued trend toward larger, single-floor homes on rural lots with open floor plans.
Survey respondents voiced their preferences for 3 bedrooms, but as in 2015, kitchen nooks and dens remained similarly popular. Media rooms, however, lost momentum replaced by a desire for a guest suite, which climbed 10% in popularity. The Westheart home plan showcases just such a guest suite. It also keeps the owners' suite separate from the other bedrooms for added privacy, and a luxurious owners' bath with walk-in shower. In fact, one of the biggest trends in the survey continues to be the desire for walk-in showers in the owners' suite, which climbed to 81%.
The Westheart design also features a great room with a gas fireplace and vaulted ceilings, providing both artistic elegance and warm strength to the home. Vaulted ceilings, much like gas fireplaces, are still a must-have for homeowners.
The 2016 Home from the Heart survey is all about what you want and desire. It gives you a say in what pieces go together to make the home of your dreams. Associated Designs Westheart home design makes that dream a reality.
[Quote section]
[Product Hero section #1]
[Product Hero section #2]
[Product Hero section #3]
[Product Hero section #4]
[Product Hero section #5]
[Carousel description widget]
[Product carousel widget]