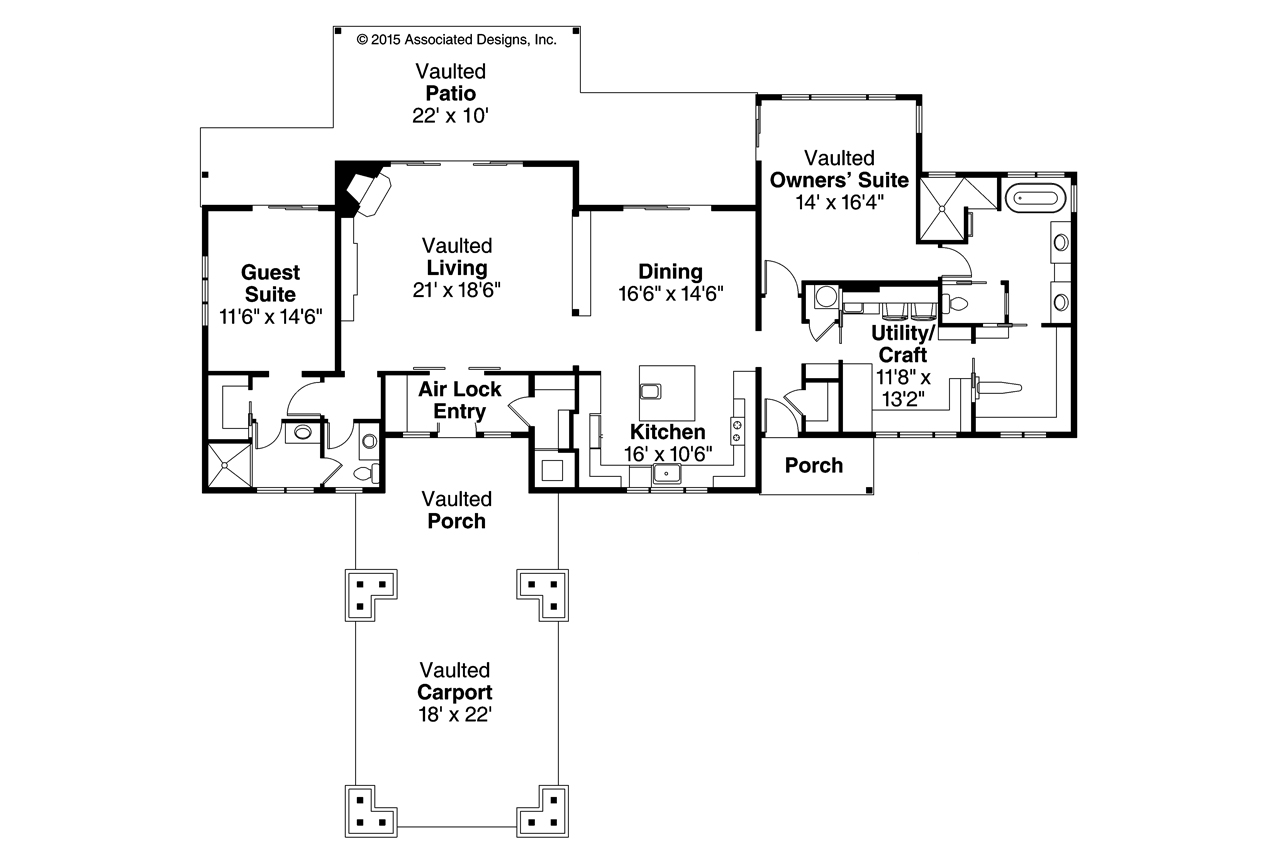 The demand for new home designs that feature a one-story open floor plan with just two bedrooms is on the rise today thanks to the massive wave of baby boomers who are willing to sacrifice size for something that requires less maintenance yet is still luxurious.
According to a recent housing survey by the Joint Center for Housing Studies at Harvard University, more than half of U.S. households today are headed by someone over the age of 50 and by 2030, the population of baby boomers ages 65 and older will skyrocket to 73 million. Consequently, as baby boomers enter their golden years of retirement, the rambling three- to five- bedroom house where they have raised a family now seems entirely overwhelming after the children have grown and left the nest.
"Many clients come to us looking to downsize for retirement purposes and focus on the design features that will be useful to them as they age, which includes giving up the third bedroom and going against one of real estate's golden rules of 'no less than three bedrooms or it won't sell'," explained Rick McAlexander, CEO of The House Plan Company, a residential plan marketing company based in Oregon. "By letting go of the third bedroom in a house plan, homeowners can dedicate space to other areas that may bring them greater satisfaction, such as a craft or hobby room, private study, media room or bar," he added.
Jon Rentfrow, owner of Rentfrow Design in Colorado, agrees, and sees another trend occurring with many two-bedroom homes today. "Statistically, baby boomers are retiring with more wealth than any previous generation, so we're seeing the desire for high-end, luxurious two-bedroom homes loaded with state-of-the-art amenities," he said.
Rentfrow also noted that in the western part of the country, most of the two-bedroom homes he designs for clients have basements to provide space for "extras" such as additional family and media rooms.
In Rentfrow's European-style Dorchester #12313 house plan, featured on The House Plan Company, the main level features a spacious kitchen and dining area opening to the great room, and a master suite and guest bedroom. The home plan's full basement offers bonus space for a second living area or media room.
Downsizing to a two-bedroom home design also offers the benefit of less maintenance, both inside and out. "The two-bedroom house plans we're designing for empty nesters are typically located on smaller lots with similar neighboring houses. They're appealing because the smaller lots require less maintenance and upkeep, which gives homeowners more freedom to spend their money elsewhere," said Steve Vatter, owner of Legacy Home Plans in Tennessee.
Vatter's ranch-style house plan #65362 featured on The House Plan Company incorporates an open floor plan to make the two-bedroom home on a small lot seem roomier. The great room, with a well-appointed kitchen and breakfast nook are the centerpiece of the one-story floor plan, flanked on one side by the master suite and a second bedroom or bonus room.
McAlexander cautions clients to carefully consider their needs as they're looking at two-bedroom house plans. "If your lifestyle is such that you or your partner need a quiet place to work or spread out and make a mess with your hobby or watch different TV programs, then we need to determine where this might take place in the overall design of the home. It's more about planning appropriate spaces to suit your lifestyle rather trying to make an existing space fit your needs," he explained.
McAlexander incorporates the need for personal space into his design, the lodge-style Tetherow #31-019 home plan, featured on The House Plan Company. Adjacent to the master suite in this one-level floor plan, he adds a craft area as bonus space to the utility room. A vaulted porch and carport provide cover from the elements for homeowners and guests to enter the home's foyer. The great room with vaulted ceilings, and dining area and spacious kitchen separate the master suite on one side of the house from the guest suite on the other to provide added privacy.
[Quote section]
[Product Hero section #1]
[Product Hero section #2]
[Product Hero section #3]
[Product Hero section #4]
[Product Hero section #5]
[Carousel description widget]
[Product carousel widget]