You may be wondering, what is a duplex house plan? Ever consider if building a duplex is a good choice for you? Duplex plans are a great option for those looking to build for multiple families or generations in mind. Maybe you are looking for a solution that would allow you to build while offsetting the cost with additional income. Whatever the reason, a duplex design will feature 2 units with individual living space. How they are arranged can vary based upon your desire for privacy and lot configuration.
However the duplex floor plan is laid out there is a shared wall between the units. Sometimes that shared wall is one units ceiling and the other unit's floor. Other arrangements may have the units laid out side by side with a common wall running down the middle. For maximum privacy some duplex plans only have a shared wall between garages.
For those looking to help house family members – either adult children or aging parents – a duplex plan is a great consideration. Day to day living can feel private yet family is close at hand to help when needed.
Multi-family homes are an excellent investment for rental properties as well. Economical to build when compared to building two separate single family dwellings. Ideal for college towns or large cities where housing shortages are at a peak but space is limited. Duplexes provide opportunities for affordable housing or temporarily dwellings and share many design characteristics with townhomes – another great investment design.
With the rise in interest for home plans with dual master suites, many homeowners may be forgetting about the duplex as a solution to multi-generational housing. The benefit over finding a single family home with two master bedrooms is the privacy that is afforded to all when living in a duplex.
Associated Designs in Eugene, Oregon offers a great collection of duplex house plans. And to show the range of this unsung design below are 4 best-selling duplex floor plans.
Maximum Privacy – Columbine 60-046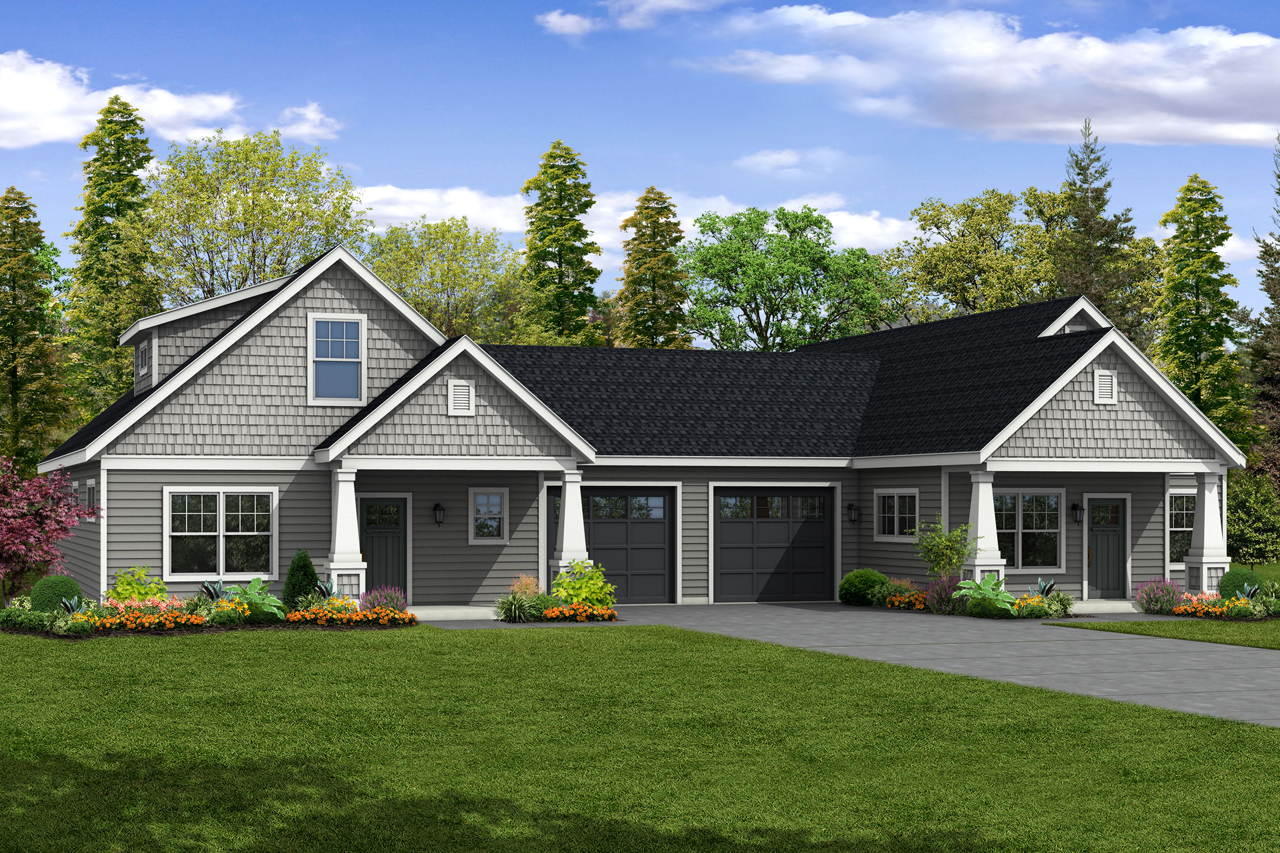 It is quick to see why the Columbine is a popular duplex design with both homeowners and those looking for investment opportunities. First each unit offers a different floor plan. Unit A is a 1.5 story floor plan that offers 3 bedrooms, 2.5 bathrooms and a great room style living area. While Unit B, is a 1 story design with 2 bedrooms and 1 bathroom. The only shared wall runs between the garages allowing the maximum amount of privacy between the living areas. For those looking to help aging parents the Unit B offers an ideal and charming cottage-style apartment so independence can be maintained while keeping help close at hand.
Incognito Duplex – Tupelo 60-006
From the street the Tupelo appears to be a large single-family Craftsman house plan. A charming covered porch frames the entrance to the main floor unit while the second unit is accessed from the side. In this floor plan the common wall is the ceiling/floor. Unit A fills the main level with a 3 bedroom, 2 bathroom floor plan; while Unit B is completely on the second floor save for a small entry landing. Upstairs, Unit B's floor plan incorporates 2 bedrooms, 1 bathroom, and an open great room. The detached garage for Unit A adds to the illusion that this is not a duplex.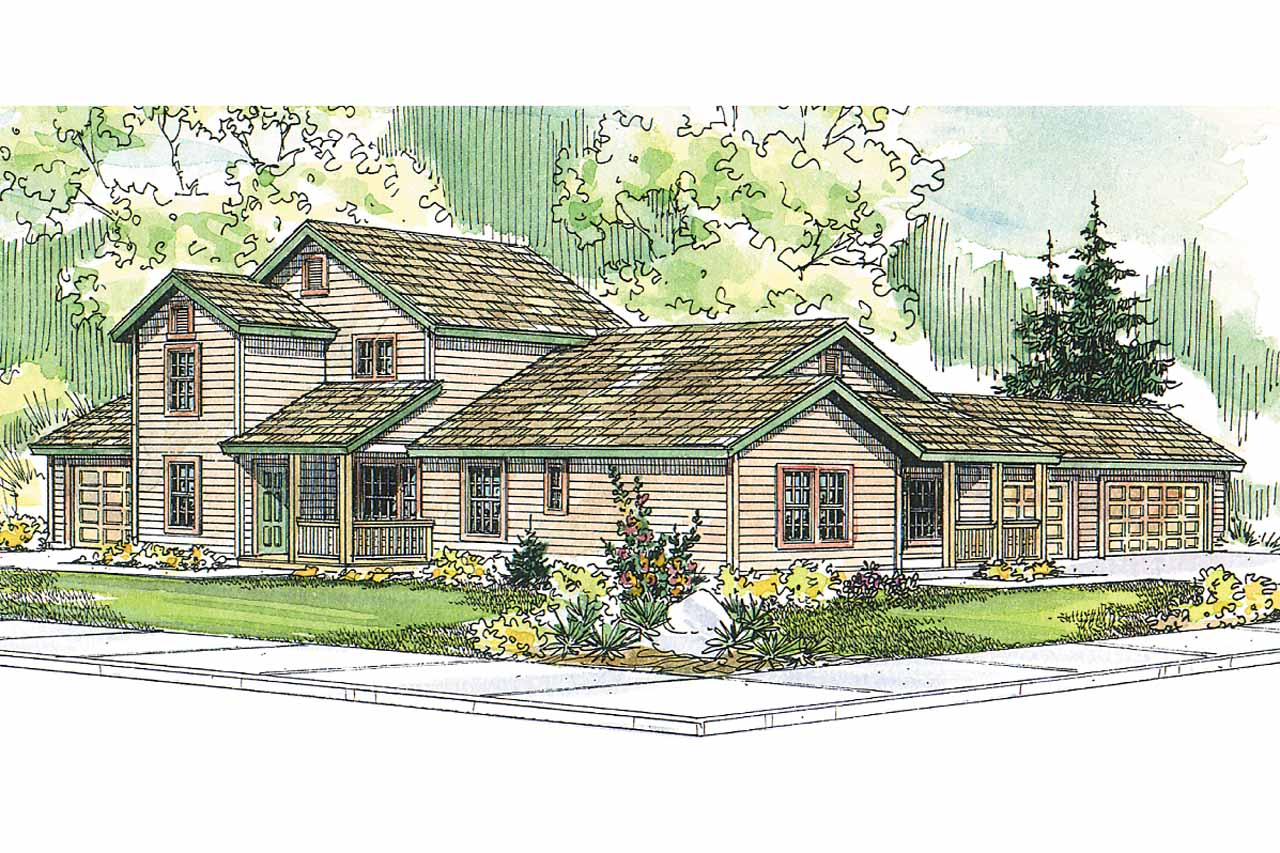 If you are lucky to be working with a corner lot, take a look at the Corydon duplex plan. This floor plan maximizes the privacy of each unit in a non-traditional layout. Unit A is a two story floor plan with all 3 bedrooms on the upper level so that living area fills the main floor. The shared wall with Unit B runs along the great room wall. Unit B also has a great room style living area but offers a 2 bedroom floor plan with 1 bathroom. Garage space is plentiful as Unit B has a 3 car garage. For those looking to maintain the Corydon as a rental property, the second garage bay for Unit B may want to be held aside for the storage of maintenance supplies.
Traditional Duplex – Toliver 60-020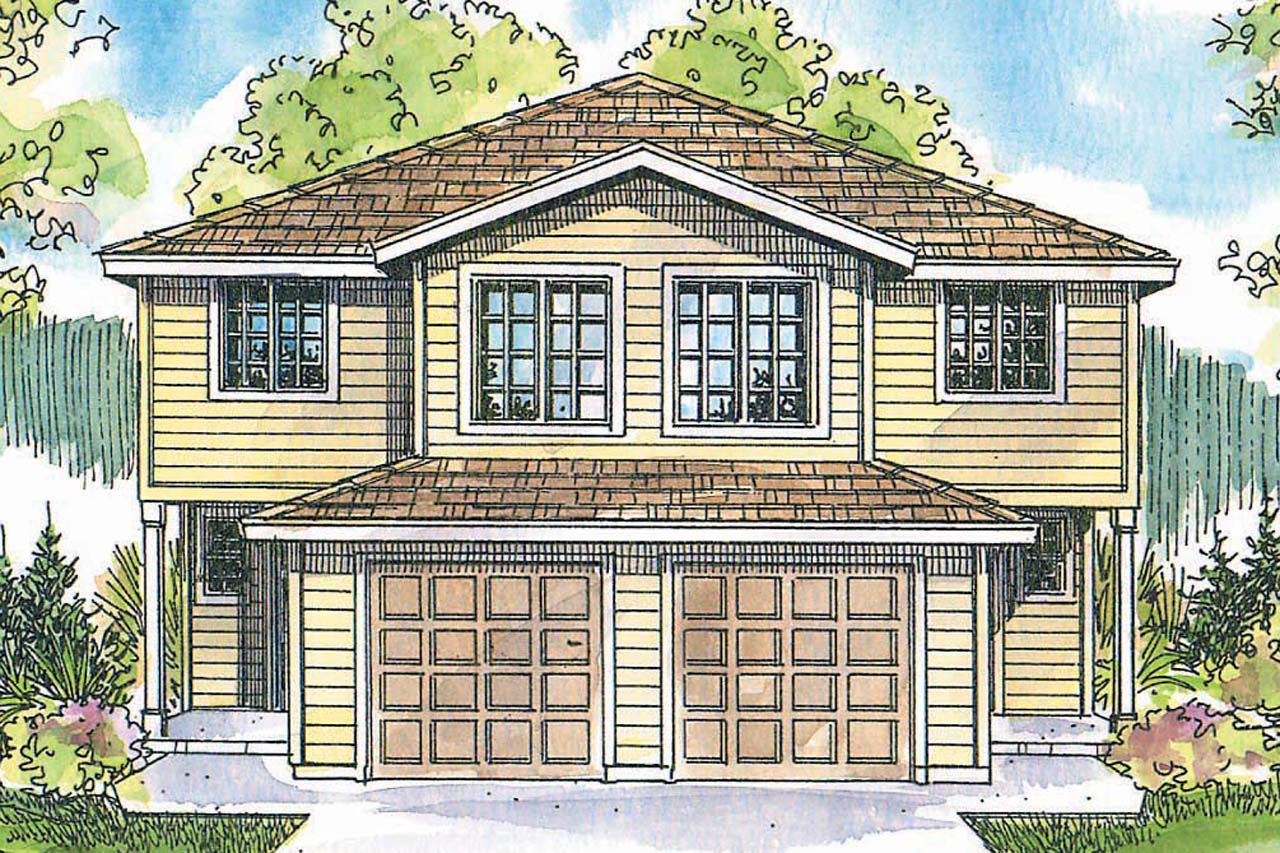 For those looking for a classic duplex design look no further than the Toliver. The floor plans for both units are mirror copies of each other and the traditional common wall runs right down the center. While the design may be traditional it isn't short of features that homeowners or renters are looking for. Each unit gets an attached 1 car garage with direct access to the living area. The main floor offers a great room style living area while 4 bedrooms are tucked away on the second floor. The master bedroom has a private bathroom and generous walk-in closet while the other three bedrooms share a second full bathroom. The Toliver shows that traditional can be comfortable.
The flexibly and range of style shows that duplex house plans are a great option for multiple stages of life. Whether you are looking for investment opportunities or to care for your family in an ever changing stage of life, a duplex design can shift with the owners' needs. For more inspiration check out Associated Designs complete collection of Duplex or Townhome house plans.
[Quote section]
[Product Hero section #1]
[Product Hero section #2]
[Product Hero section #3]
[Product Hero section #4]
[Product Hero section #5]
[Carousel description widget]
[Product carousel widget]