Over the last few years the desire for hillside house plans has skyrocketed. With more subdivisions and city growth occurring in hillier terrain or those building on rural property looking to get the most of your lots views – homes with walk-out basements are becoming increasingly popular.
Home designs with walk-out basements come in a variety of sizes and styles. Before we dive into some of our favorite house plans with daylight basements let's take a look at the advantages of a walkout basement house plan.
While construction may be tricky don't let this scare you. By working with this unique feature in your building lot you can turn this lower level space that would otherwise be lost to the foundation into a comfortable living space. The first benefit to incorporating a walk-out basement is taking advantage of the views. If you are building in a scenic area and have mountain, lake, river, or other natural beauty that surrounds your home, building on a walkout basement can help you leverage the most of your views. How do they accomplish this? Extra outdoor living space offered by creating balconies or raised decks off the main floor with equally large patio space accessed from the walk-out basement. For those who love entertaining outside this extra space could allow for outdoor kitchens, bbq patios, or fireplaces plus plenty of space for outdoor furniture.
Walkout basements also allow for extra living space such as recreation rooms or family rooms in the lower floor. Plus those with larger families or who entertain longer term guests will enjoy the possibility of additional bedrooms. Or as working from home becomes a potential long term work situation for some – the additional bedrooms in a walk-out basement could be furnished as home offices with the benefit of feeling detached from the day-to-day activities that take place on the main floor. See below for a look at some of our favorite walkout basement plans.
Modern House Plan – Carbondale 47582
The Carbondale hillside plan offers homeowner's a truly modern looking design. Angled shed roofs combined with cedar siding, stone, and panel siding create an eye-catching façade. Inside the floor plan is open. The main floor offers an flex room right off the entry that could serve as a guest room, den, home office or whatever else the homeowner needs. The owners' suite is also on the main floor and is filled with natural light from a rich display of windows along two walls. The owners' bath is luxurious with a separate soaking tub and walk-in shower plus twin sinks and a large walk-in closet. The walk-out basement offers an additional family room complete with beverage bar and fireplace along with two additional bedrooms. Outdoor living abounds on both levels. From the main floor a large vaulted covered deck is an extension of the great room. This is mirrored on the basement level with the family room being able to open to the large covered deck.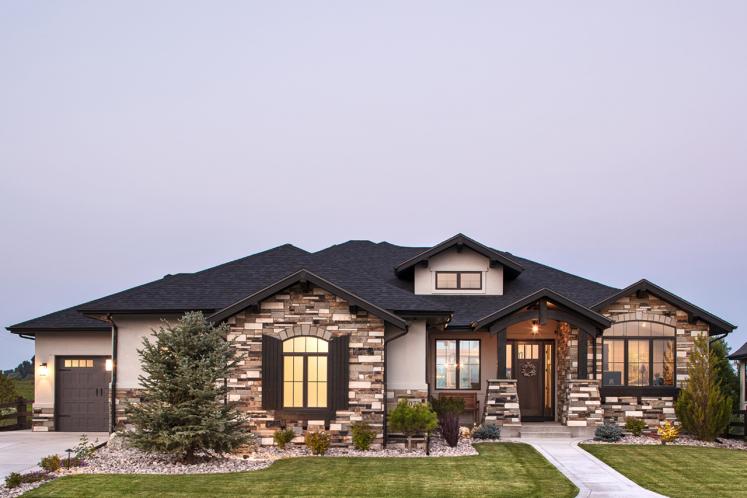 Craftsman House Plan – Aspen Grove 86311
The Aspen Grove home plan is a stunning Craftsman house plan designed with a walk-out basement. From the street level the home appears to be a single level design. Many will appreciate the attached 3 car garage and great room style floor plan. Inside the entry is a home office which could serve as a guest room if preferred. The master bedroom is also on the main floor and is a luxurious retreat with private access to the back deck plus an en-suite bathroom with walk-in shower, dual vanities, and large walk-in closet. Off the great room a set of stairs leads down to the lower, walk-out basement floor. Additional storage is plentiful on the walk-out level. A large family room fills the core of the daylight basement floor plan along with two additional bedrooms and an exercise studio.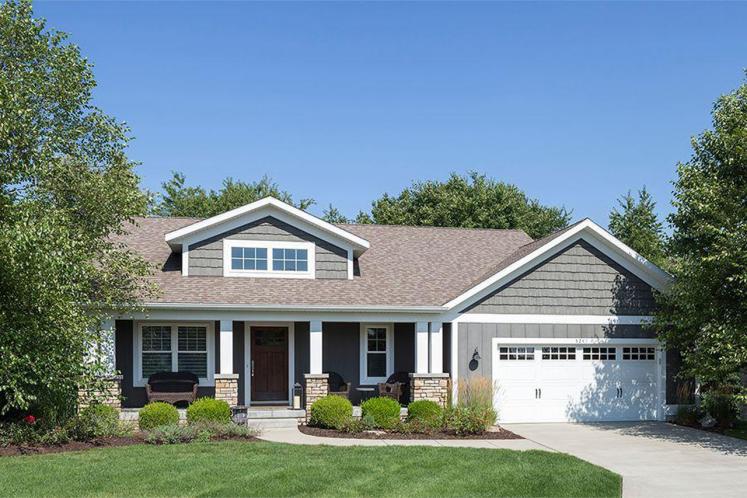 Ranch House Plan – Tuscan 92653
The Tuscan hillside home plan is an adorable ranch home design. The main floor offers a popular great room style layout along with a main floor master suite. Off the main floor are two outdoor spaces. A sunroom is accessed from the dining room and is an ideal feature for those who live in hot climates or where bugs are a concern. The sunroom allows for the enjoyment of the outdoors while being shielded from the elements. Off the sunroom is a deck for when the temperatures are more comfortable. Off the foyer a staircase leads down to the basement level. The walk-out basement floor plan offers two additional bedrooms, a full bathroom, plenty of storage, plus a large family room with beverage bar. Additional outdoor living opportunities can be enjoyed off the family room which has an extensive patio created by the sunroom and deck above.
Cottage House Plan – Bayview 44361
The Bayview is a charming cottage house plan that is equally well-suited as a year round residence or as a vacation retreat. From the front porch there are two options, one is to enter straight into the kitchen the other leads you through the mud room. Either way you'll find yourself in the great room where vaulted ceilings run through the dining and living room. A sunroom is accessed off the dining room. Filling out the main floor plan is the master bedroom complete with private bathroom and direct access to the outdoors. The walk-out basement floor plan offers two additional bedrooms – one of which is a bunk room which is great for those looking to use this design as a vacation home. A kitchenette is in the storage room off of the large family room. A screened porch is accessed from the walk-out basement adding to the sheltered outdoor living.
It is clear to see that the offering of house plans with basements covers a wide range of styles and sizes. Each plan shares common design trends such as open floor plans and lots of outdoor spaces accessed from both levels. While many design features may be similar between these house plans, each can be tailored to the homeowners' lifestyle making them unique home designs. To continue your search and to find more inspiration check out The House Plan Company's collection of sloped lot house plans.
[Quote section]
[Product Hero section #1]
[Product Hero section #2]
[Product Hero section #3]
[Product Hero section #4]
[Product Hero section #5]
[Carousel description widget]
[Product carousel widget]